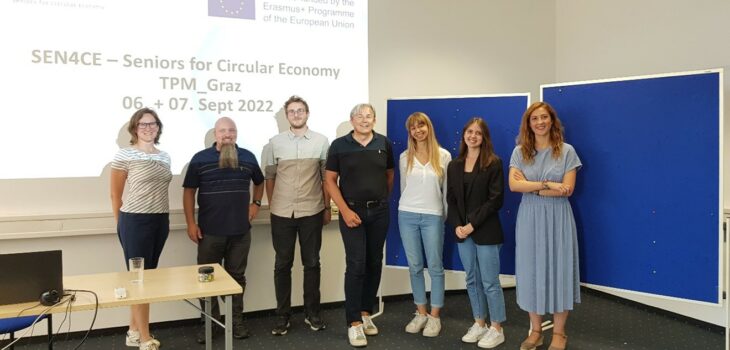 The Erasmus+ project "Seniors for Circular Economy" (SEN4CE) started after a successful kick-off meeting in Graz, Austria in September 2022.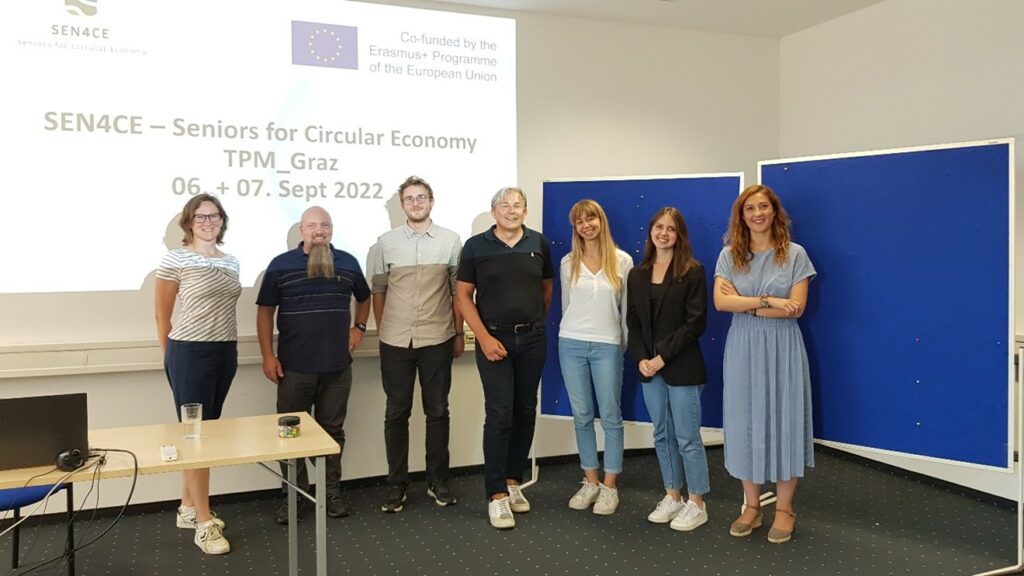 The core aim and overall objective we want to achieve with SEN4CE is to engage and empower seniors for the green, sustainable, and digital circular economy of the future and involve them in high quality adult education and life-long learning. The primary target group (seniors 60+ years) will be directly addressed with a high-quality adult education digital training program on circular economy, that can directly be shared and used by adult education and life-long learning providers.
Besides a brand-new website, a lot is happening concerning the development of our digital training program, and through this newsletter we want to keep you up to date, as well as provide some interesting information about circular economy and digital services.
To promote our mission and vision, our work will contribute to the following objectives for SEN4CE:
To empower seniors to actively take part in sustainability and circular economy discussions, programs and initiatives
To foster life-long learning with custom tailored digital training materials for seniors on circular economy and digital tools
To foster intergenerational knowledge transfer and intersectoral (adult education/care and retirement) networks
To achieve a large, international impact, by addressing the target group through a broad spectrum of multipliers and channels
About SEN4CE:
SEN4CE will address seniors (60+) with a digital training program to foster life-long learning (core topics circular economy and digital tools) that empowers them to actively engage in the "green transition" and connect them with the young generation, for whom sustainability and circular economy are vital (in the truest sense of the word). The project also addresses people working with seniors in retirement and care contexts with a combined circular economy – train the trainer (digital training).
This aim will be realized by implementing five steps:
CE for seniors and life-long learning: A course curriculum (including learning content) on circular economy for seniors will be developed. The curriculum will be created for 2 different levels knowledge (basic and advanced) to ensure compatibility with the diverse learning needs of seniors 60+.
CE for care and retirement sector: A course curriculum and learning content for circular economy in the care and retirement sector will be developed. This will include a train-the-trainer program for staff to use the previously developed SEN4CE training material with their clients.
Digital CE tools for seniors: Circular Economy goes hand in hand with digital tools. The focus of this result will be on digital applications for circular economy, enabling seniors to improve their digital tool skills.
Digital learning materials: Digital training materials will be developed, based on the concepts and curricula which have been developed before. We will use the software Articulate to create non-linear, scenario-based gamified e-learnings. By the choices of the learner, a different storyline will unfold with considering the needs of the target group (seniors) and respect highest barrier-free standards. The digital training will be based in blended learning methodology, including a train-the-trainer part.
SEN4CE Digital environment: The SEN4CE digital environment will be the primary sharing and promotion tool for the digital training courses. The design and visual identity to respect the needs of the target group seniors by guaranteeing easy access. The aim to is create highest possible compatibility with existing platforms.
All results of SEN4CE will be available in English, French, German, Spanish and Portuguese.
The first transnational project meeting took place on the 6th and 7th of September 2022 in Graz. On the first day we started by discussion project management issues, had a look at our wonderful new website and discussed the general content of the five modules. In the evening social activity (guided tour, dinner) took place in the city center of Graz. The upcoming day we spent discussing the exact concept for result 1. In the end, a satisfactory result was achieved, which we will continue to work on in the following weeks.
We are happy to invite you to our brand-new website: https://sen4ce.eu/
We are looking for you! Are you interested in the upcoming program. Get in touch with us for upcoming workshops and/or events! The program is for free!
If you want to support us by spreading the message of the Sen4CE project, please share our website on social media! There is a lot to come, stay tuned and follow our channels!